5 Common Heat Pump Problems and What You Should Do to Maintain Them
If you are looking for an economical and energy-efficient way to cover your heating and cooling needs, then installing a heat pump in your home is a great option. This is a type of heating and cooling device that provides both warm and cool air to a space. It is typically installed outdoors and works by using geothermal heat or heat energy from surrounding air to operate.
Thank you for reading this post, don't forget to subscribe!
So, whether you live in Montreal, Toronto, or Ottawa heat pumps are a great way to keep your house cozy year-round. However, as with any other HVAC system, heat pumps can also run into some issues over time which can reduce their performance. In this case, it is good to be able to recognize the signs of potential malfunctions so you can identify the real problem and fix it right away.
In general, heat pump issues can range from a simple, faulty reversing valve to more complicated broken parts which may require the immediate assistance and servicing of a professional technician.
For more insight, in this article, we look at the five most common heat pump problems your system may encounter and what actions you should take to fix them.
The heat pump won't turn on
If you notice that your heat pump won't turn on, then there could be a few reasons for it. Some of the most common ones include thermostat problems, power loss, closed registers, dirty air filters, and a faulty reversing valve. While you can fix some of these issues by taking a few easy troubleshooting steps, it may be best to contact a professional instead to identify the problem.
Make sure you find licensed HVAC technicians in your area who can diagnose, maintain, repair, or replace your heating and cooling system for a fair price.
The heap pump is running constantly
If your heat pump is running constantly, there are several possible causes for it and these are incorrect thermostat settings, dirty coils, refrigerant leak, and broken compressor contractor. If you don't tend to these problems right away, they will affect your heating and cooling system's performance and even increase your energy costs.
The best way to prevent any of this from happening is to maintain your heat pump on a regular basis. You can do this on your own, or hire a professional HVAC contractor to do it for you. Homeowners who switch from oil to cold-climate heat pumps can save between $1,500 and $4,700 per year on home energy bills.
Not heating or cooling properly
If you discover your heat pump isn't heating or cooling your living space properly, then there could be some problems with your thermostat settings, dirty components, blockage around the outside of the system, low refrigerant charge, and frozen evaporator coil.
For example, if there is too much buildup on the filter, you can easily fix it by changing the air filter or cleaning the outdoor components. If the problem is more serious, a professional technician will identify the cause and do everything they can to restore the system back to its former working condition.
Water leaks
Water leaks are another common issue heat pumps may run into over time. The main causes for these leaks may include refrigerant leaks or that a drain line is clogged.
For example, if the problem is a refrigerant leak, it could lead to ice building up on the evaporator coils which will melt when you turn on the heat pump, causing water to leak. Similarly, if the drain line is clogged, it can eventually lead to water overflowing, so you can either unclog it yourself or contact a professional to do it for you.
Bad odors or weird noises
Other obvious signs that indicate that your heat pump isn't working properly are bad odors and weird noises. For example, if you smell a musty odor, there is a great possibility that mold is growing inside your heat pump or on the surrounding walls. This can be a serious health issue, leading to severe breathing problems for you and your family.
Additionally, if you hear rattling noises or a loud banging, those can also be signs of heat pump malfunctions that need to be addressed immediately.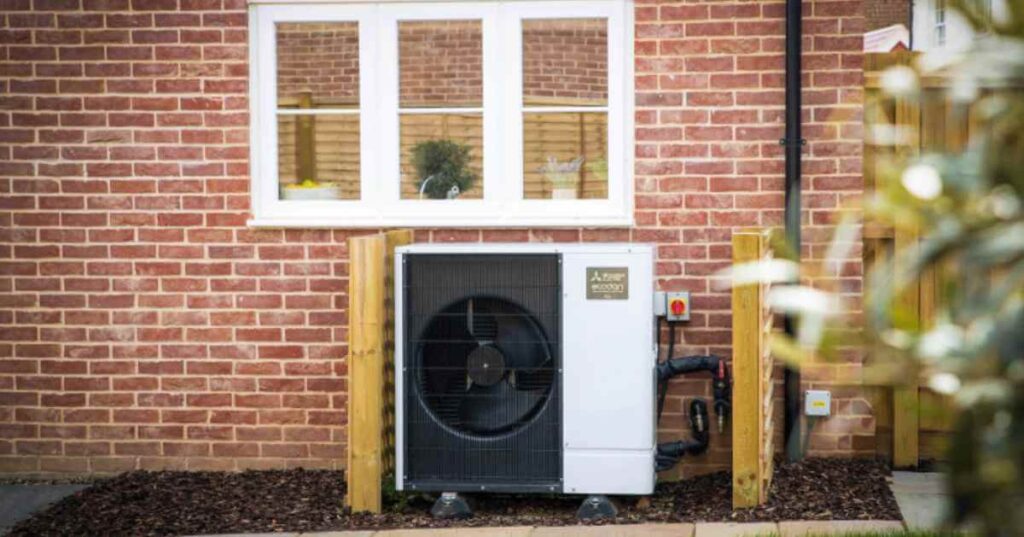 Final thoughts
Heat pumps are undoubtedly one of the most popular types of heating and cooling systems for homeowners. However, like other home appliances, they can run into some issues over time which can affect their performance and efficiency.
To learn more about these issues, refer to our post and read about the most common problems of heat pumps and how you should fix them.